October is Auspicious all around the Globe. The world seems to be colored in holiday spirit in october and if you are wondering why, without further a do, I will tell you why!!!
well, As you all know october marks an end to rainy days in India and brings clear sky and marks the fall in the western part of the world, October brings to all of us numerous festivals as well, which are celebrated around the world. They vary in their names but the soul purpose of each of these festivals somehow, (I think) is to celebrate the spirit of new season! And so here is the list of few of many festivals that are celebrated around the world during october, making it all the way Auspicious month of all.
India- Navratri/Durga Puja/Diwali
Durga Puja is a nine day long festival celebrated in India. Goddess Durga is worshipped.
Diwali is a festival when Goddess Laxmi and God Ganesha are worshipped. It is celebrated by lighting diyas and burning crackers. Marks the celebration of  Return of Rama after Victory over evil, Ravana.
Nepal- Dashain
Fifteen day long festival of Nepal. Same as Durga Puja. Read more on wikipedia.
USA- Fantasy Fest of Florida and Halloween
Fantasy fest of florida is a street Party held in last week of october. Read more on wikipedia.
Japan – Jidai Matsuri
Traditional Japanese festival, Jidai Matsuri is held on october 22 in Kyoto, Japan. A festival where people of all ages come together dressed in authentic costumes representing various periods and characters of Japanese feudal history.
Germany- Oktoberfest

16 to 18 day Festival of Germany, Oktoberfest is a world's largest festival of beer and travelling Funfair. During this festival, large amount of beer is consumed and people enjoy rides, side stalls and games. More on wiki.
Philippines – Masskara Festival
This festival is a festival of masks adorned with beautiful smiles.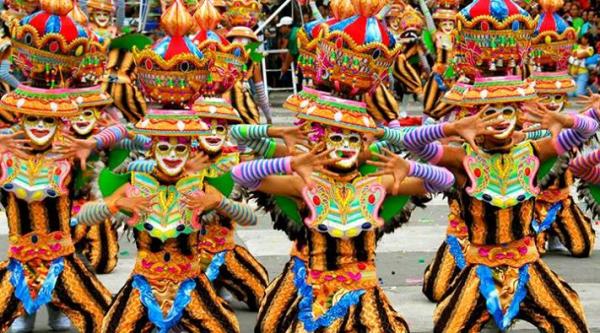 Egypt – Moulid of Sayyid Ahmad Al-Badawi
One of Egypt's most important moulids (religious festivals), held at Tanta in the Nile Delta, honours a Moroccan Sufi who fought the Crusaders in the 13th century. Some two million pilgrims arrive from across the Arab world to pay their respects at the main mosque, which holds al-Badawi's tomb. (source : here )
Brazil- Círio de Nazaré
Belém is the host of the annual Círio de Nazaré, one of the world's largest celebrations honouring the Virgin Mary, who, as the Virgin of Nazaré, is the patron saint of Pará. The highlight of the 15-day festival occurs on the second Sunday of October, when the city welcomes more than one million pilgrims who come to participate in a procession (source: Britannica )
Ireland- Matchmaking Festival
Matchmaking is one of Ireland's oldest traditions and, for the last couple of hundred years, a good deal of it has taken place in Lisdoonvarna during September and early October.Matchmaking began in Lisdoonvarna when the visiting gentry who were here to take the waters, wanted their accompanying children to be matched to their fellow "upper classes".  Traditionally they came in September after the harvest was gathered for a holiday. (source : Here )
References : Lonely Planet, Britannica, wikipedia. Image sources : Google.
Thank you for reading. Hope you enjoyed. 🙂
Much Loves,
Arohii