These Ladies are unique, they know what they are doing, they make their own music and they are one of the BYOB kind of women. Their music is something which cannot be categorized into commercial as their music is more like the kind of music that comes from heart, they are rebellious, badass and talented divas who need more recognition.These girls aren't serving everybody's cup of tea but something that's different than what we are already served four to five times a year! i do not intend to say that commercial music is everyones cup of tea either or its bad, its just that people who are raw and unique reflect individuality, which is a beautiful thing. These girls are doing the same to their music without worrying much about whats selling out. Bands like Haim and M.O brought the flair of 90s back when lot of 90s music fans were longing for it, including me! And i am so glad the music today is better now than the  2008 to 2013s music years , thanks to EDM and electropop. Music today is better and enjoyable. Tell me,which new singers come to your mind when i say artist who need more recognition? M.O, Haim, Tove lo, Jasmine Thompson,Rae Morris are some of the artist i think need to be noticed more. I am glad for Tori kelly and Jess glynne too, they deserve all the fame they have now.
Now the artist i am going to mention right now need more recognition worldwide apart from the appreciation for their work! Because they simply Rock!
Elliphant-
Ellinor Miranda Salome Olovsdotter, better known by her stage name Elliphant, is a Swedish singer, songwriter and rapper
songs by her which you must check-Revolusion and only getting younger younger.
only getting younger- Ellipahnt feat skrillex   click on the youtube link, opens in new window.
Revolusion – elliphant   click on the youtube link, opens in new window.
MØ
Karen Marie Ørsted, better known by her stage name MØ, is a Danish singer. she is the same girl from the massive hit Lean on by Dj snake, Major lazer and diplo. other amazing songs by her like pilgrim, XXX 88, no mythologies to follow are really good, she has just released her new music video with diplo a week ago called Kamikaze, the song is catchy and i can't help myself but hum it all day," take me to the party, kama kama kazi" is quite catchy.
check it out here – Kamikaze click on the youtube link, opens in new window.
M.I.A. (rapper)
Mathangi "Maya" Arulpragasam (born 18 July 1975), better known by her stage name M.I.A., is an English recording artist of Sri Lankan Tamil heritage. Her music is not confined to one genre, i see her singing dance music to electro pop to alternative, electronic, disco. Galang, Jimmy, Bad girls, paper planes and bucky done gun can well depict the different genres M.I.A has sung in.
I like Bad girls by M.I.A which has arab influence in the music video-
Bad girls click on the youtube link, opens in new window.
Rae Morris
Rachel Anne "Rae" Morris is an English singer-songwriter. She released her debut album, Unguarded, in 2015.Though she is new, her song closer is a must-listen. she sings pop.
Closer     click on the youtube link, opens in new window.
M.O.
M.O are an English female trio band consisting of members Annie Ashcroft, Frankee Connolly and Nadine Samuels.They sing RnB. They remind me of 90s. songs which you must check are Dance on my own, preach, ain't got time.
Preach click on the youtube link, opens in new window.
Agnez Mo
Though she is indonesian, her only hit internationally coke bottle with timbaland shows she is a big deal. she is an artist to watch out for.
coke bottle click on the youtube link, opens in new window.
Jasmine Thompson
she is just 14 and got featured in Robin Schulz' sun goes down, sign of a superstar, she is promising and sings incredibly good. Jasmine Ying Thompson is an English singer and songwriter.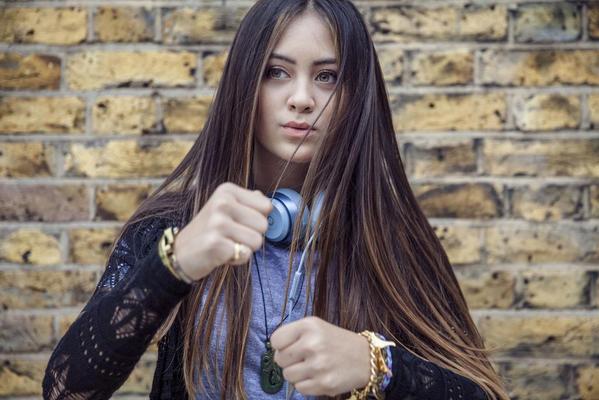 song you should not miss  Adore and sun goes down.
Adore click on the youtube link, opens in new window.
Charli xcx 
she needs no introduction, she is quite famous for songs like boom clap, fancy and i love it feat Icona pop. Her other songs worth checking out are you are the one, break the rules, doing it feat Rita ora, her music can be listed in multiple genres although dance and pop are main.
Break the rules This song has catchy lines like" i dont wanna go to school i just wanna break the rules!"
Jessie ware
She is from U.K, sings pop, electronica, soul. she made to this list because even if she enjoyed success with her debut album in 2012 and her songs released in 2014 did well, she is still unknown for many across the world.she deserves more fame and recognition than this.If you remember champagne kisses and tough love you will agree with me. 🙂
Other new artists who are rocking and are also enjoying fame worldwide are Lorde, Ella eyre, Iggy Azalea, Jhené Aiko, natalie de la rose, tove lo, Kiesza.
That's all for now, hope you enjoyed the post as much as i enjoyed writing it, loads of love.
thank you ❤
xoxo